Special Event: Get Crafty at Denman with Search Press
WI Member: £65.00
Non Member: £95.00
---
Starts: Monday, 23 September 2019 at 9:30AM
Ends: Monday, 23 September 2019 at 4:00PM
Available spaces: 39
Tutor: Not Applicable
Denman is delighted to be working with Search Press, the leading art and craft publisher in the UK bringing together some of the UK's best craft tutors for a one day spectacular event. On this special day, you will get to choose two workshops from the list below and you will spend 2 hours making something to take away with you, as well as being able to ask lots of questions to these fabulous tutors! There will also be the opportunity for you to purchase a selection of books from the tutors and other leading crafters.
List of workshops:
Debbie Shore- Toaster Cover from Debbie's latest book, Sewing Room Secrets, Machine Sewing

Sachiyo Ishii- Santa Robins with needle felted embellishments, inspired by her Pocket Pompoms book

Corinne Lapierre – Felt Owl from her book Folk Embroidered Felt Birds

Alistair MacDonald– Padded Coat Hanger & Scented Bag from Alistair's Love to Sew: Quilting On the Move

Mr X Stitch (Jamie Chalmers)– Cross Stitch Gift- more details to follow!
When booking, please make sure you have your workshop choices to hand. You can either tell the Guest Services Team member on the phone, write it in the requirements box when booking online, or email us on marketing@denman.org.uk
This is going to be a truly unique event - and one not to be missed!
Outline of the Event:
9.30am Registration, welcome teas and coffees
10.00am: Your first workshop
12.00pm Buffet lunch
13.30pm: Your second workshop
15.30pm: A chance to purchase books and network with the other delegates/tutors
16.00pm: Departure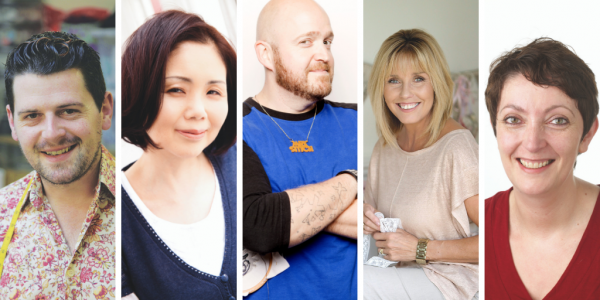 Tutor Biographies:
Sachiyo Ishii
Sachiyo Ishii was born and raised in Japan. She was a money broker on Wall Street and in London before discovering the joy of handicraft after her second son was born. She learned dressmaking and Waldorf doll making and has been designing and creating dolls and toys ever since. She teaches knitting, doll making, wet and dry felting, sewing, crochet and spinning, among other crafts. She has authored 13 titles for Search Press and her work regularly appears in craft magazines. Sachiyo lives in Sussex with her husband and two sons. Visit her website at www.knitsbysachi.com.
Debbie Shore
Multi-award winning Debbie Shore started her career as a children's television presenter and since then has appeared regularly on television both as an actress and presenter. Debbie has hosted live fashion shows, produces her own range of fabric and writes for several popular sewing magazines. She is a bestselling author and has written 19 books for Search Press, with several more underway. Debbie's new club website, www.halfyardsewingclub.com
Alistair MacDonald
Alistair MacDonald studied fashion design at Central St Martins School of Art in London and set up his own womenswear label, House of Alistair, in 2008. Working from his own studio in Savile Row, he has become a highly respected and well-known fashion designer. Alistair's love of Liberty fabric has fuelled his imagination to design and create a range of craft and textile products and gifts. Alistair's books with Search Press include Pompom Noel, Crazy Garlands & Bunting and Quilting on the Move. See Alistair's website, www.houseofalistair.com
Corinne Lapierre
Corinne Lapierre developed a passion for crafts and textiles from a very young age, and has always had an avid desire to learn about traditional techniques such as weaving, dyeing, silk painting and embroidery. She studied Fine Art in France before moving to the UK to study Fashion Design in Manchester. After working as a fashion designer for a few years, Corinne studied millinery, through which she discovered felt and its many qualities. In 2009 Corinne started her own craft business as a felt maker. Corinne makes regular appearances on Create & Craft TV and lives in Yorkshire with her three children and two cats. Visit her website www.corinnelapierre.com.
Jamie Chalmers
Jamie Chalmers took up cross stitching over fifteen years ago and has never looked back! He is an active leader in the online stitch community and what he has dubbed the new embroidery movement' and is active on various social networking platforms. He is a regular feature at the Knitting and Stitching Shows and The Handmade Fair, appearing alongside craft celebrities like Kirsty Allsopp, Poppy Chancellor, Patrick Grant and Annie Sloan. He loves introducing new people to the benefits of embroidery from a creative and wellbeing standpoint and is proud to be an ambassador for this ubiquitous craft. His website is www.mrxstitch.com
Book Now